Ilex decidua
Possumhaw
Aquifoliaceae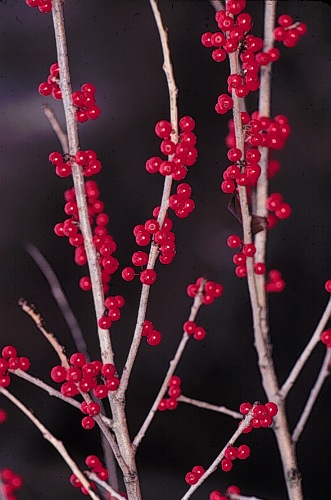 Expand
Habitat
native to from Texas east
zone 5
Habit and Form
a deciduous, small tree
9' to 18' tall and slightly less as wide
multibranched and multi-stemmed
branches are held horizontally
suckers
medium texture
slow growing
Summer Foliage
alternate leaf arrangement
simple, deciduous leaves
1.5" to 3" long
cuneate leaf margins
dark green leaf color
pubescent
Autumn Foliage
Flowers
tiny, white flowers
dioecious
not ornamentally important
Fruit
bright red fruit on female plants only
0.25' in diameter
ripen in September
showy
persists
Bark
smooth, grayish-brown bark
slender, brown stems
gray, onion-like layer
Culture
prefers acidic soil
tolerates wet sites
full sun to partial shade
Landscape Use
as a foundation plant
hedges
borders
in mass planting
screen
winter fruit effect
patio tree
wet sites
Liabilities
no serious pest problems
can become leggy
ID Features
alternate leaf arrangement
dense, rigid, multibranched habit
deciduous
red fruit
small, imbricate buds, brown
tiny white flowers
yellow fall color
suckers
Propagation
by semi-hardwood or winter cuttings for cultivars
seed exhibit a dormancy an can be slow to germinate
Cultivars/Varieties
'Byers Golden' - This is a yellow-fruited selection that reportedly holds the fruit for a long period.
'Council Fire' - An upright, rounded form growing 15' tall and 10' wide, this plant is superior for its ample fruit production and retention in clusters along the stems.
'Red Escort' - This is a male selection (pollinator) with glossy leaves and a habit to 30' tall.
'Warren's Red' (also known as 'Warren Red') - This cultivar appears to display superior hardiness and is also notable for its bright, glossy fruit and late leaf retention. The habit is upright and 20' tall and wide.